Blubberknife Liner Notes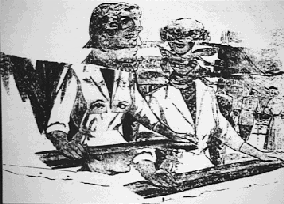 File collated by Dave Watson from an E-mail by Bernie Maier.

The original song list for Blubberknife is:
Side 1: Adolf a Carrot?; Rocket Summer (half-hour live piece with several eight-track tapeloops); Deano's Couch.
Side 2: An American in Paris; Tarzan's Grip; Umbrella; Lower Than the Grave; J. Edgar Hoover/C.M.I.D.; Ad Infinitum

"many the wonderful picknose, he is ruined by the blubber knife
primary slice do telegram BOG he sung by men and womens private
parts at distance.
lurches into adolf a carrot themesong elephtisbone beirtuba
fat roland momma sisswihes he fat hermann at microphone at
at stranded fourth july film olivia newtron loop dance it hairy
arm embrace. heads peep through slits in dress emerge gifts bearing
do does
gift one he is a dissotation on values by andre breton drums
by iron butterfly and ms subbalakshmi sing does nyindi tribe
of the northern territory is music.
second is lecture on current trends in psychotherapy peggy lee
sings ITS A VERY SPECIAL DAY roxy music provide rhythm.
third is beatles on sitars kraftwerk in treacle bath.the singer
describes the enhanced aterial snap heard in cardiac auscultation.
the fourth is the choir greeting pope paul on his visit to australia
in 1970 the drums are on location in ghana hare krishnas play
along.men and women sing GOOD MORNING MRS ALGAE and GET OUT at
suitable intervals.
the fifth is notable for the voice of sigmund freud saying MY
NAME is SIGMUND FREUD. RD Laing carries harmony on tuned lifestyle
colin wilson is symbolised by various farting noises.The music
is by Adolf Hitler.
the sixth construes various shades of melanin. harmony by the
sweet.severed head strums flanger under olivia's dress does.
seventh is europe on ten dollars a day it features mrs mills
and bryan ferry on back to back honky tonk pianos, duo morano
gabble does, cluster on drums does. is romantic.
eighth gift squeezes the nyindi tribe of the northern territory
through the ELECTROHARMONIX GRAPHIC FUZZ.fred astaire sings
ILL BE RICH YES SIRREEE I DON'T CARE and RHYTHM!!!!!!!!!!.
final gift is looped squeals grunts blurts whees rends shusses
cruskas looniws hulff nnnns brrrllk and hariahahas.
Vocals sung standing on table while everyone pretended not to
look.
crooner at baby grand i think ill HAVE A LIE ON MY COUCH...
too much bourbon slightly uneasy on the feets there phasing as
1/4 inch tape slithers to and fro on a 1/2 inch mechanism
Martin, im in love with the italian presidente
i feel his leg under the table
i groan and sigh light his cigar
he drives me home in his car
it's a CONVERTABLE
band members slash curtains with scissors stand on each others
feet bounce on trampoline dribble pull faces audience slow clap
demand their money back
EXPECTANT HUSH!
BONE MAN PLAYS THE BONES!"

"bone man plays the bones
'@8 track loop loop-stockwhips
moving strbe film device
brian poole and the tremoloes
crows they sing
kork ms20 rampantly fucking ms10 thru ELECTROHARMONIX graphic fuzz
with rereverb
ames bros. thru flager n
fades to
'@8 track loop nigerian precussion forwards + backwards
sideways too with synth drums (bass) triggered by activation potentials
pianoforte from deutsche grammophone sampler lp with yellow cover
sing of shag and grong k not really
well done unbeatables
god a catapillar
next track roland and prophet +
next track roland + prophet fat momma swishes yes swishes pings and
get this
pongs no clumps and bitches
angelic,yes,glass knife melody soothing droneskog if not korg
Warhol; fantastic movie
so cool
there was blood on poodles and all over
i felt like I was bleeding all over
and there was blood blood all over
bleexing all over
and there was blood etc etc
Lower than the grave
thud
crack
twitch
cackling neighbours
see
sir john w bass synth thru echo reverb flange ELECTROHARMONIX g.fuzz
guitars thru preverb
loop like kawai invents hagis dig
orch. halfspeed as usual repeated by atou try again
orch. halfspeed as usual repeated by programmable 1/4 track
sir john will not be out done
thr the hagis is all eaten
we run out of tape
sir john ceases + desists even goce home....diner awaits
next the heads are live at the good old ha killayoni club melbourne
rec. by phillip samartzis on a sony pressman
reconstructed thru a stereo graphic
use headphones
as follows
J.edgar hoover has aircraft noise no music fuck
throw in fuck for good measure
4 track loop prec. w korg + kawai screams
slixdes of anorexics yawn
Cmi d. has treated tubercular cough on loop
Wait on first comes frag. of batmans boots
didn't even get damp
anyway more fairlight noise of demo tape etc.
Korg scream guitar through flange + ELECTROHARMONIX graphic fuzz
and kawais100 w slides of ratty electrodes
film loop of julie anthony walking into bank or b. society or whatever
anyway she blew up at the end and hideki matsutake had all to do with
it"

---
Return to the Severed Heads Liberation Front Page.
Return to Watson's WorldWideWasteofTime Page: Music and Anime.