Print/licence statuses at the end of the entries refer to North America (that's where I live, so...).
MABURAHO
Kuriko Kazetsubaki (center, of course)

Kazuki Chikimori (right in picture) is a quite-below-average student at the Aoi Academy Senior High School, where people with prodigious magical skills go to study. Most of the students can boast both powerful magic and the ability to use it thousands and thousands of times, but Kazuki is only able to use it eight times in his life. Basically, he's a poor schlub who gets picked on a lot by the guys and ignored by the girls (pretty much all of whom are at least cute). Things change radically for him when it's revealed that his ancestors include many well-known and powerful magicians, and that his own magical power is actually lying dormant in his genes. In other words, it's highly possible that his offspring will be the ones who will fully inherit all that power. This results in all the girls in the class wanting to jump him, which, in return, makes all the boys want to thump him. Three particular girls concentrate their efforts on him. Yuna Miyama (left in picture), a sweet girl who is actually an old childhood friend of Kazuki's, genuinely loves him and even transfers to Aoi Academy and situates herself in his room in the Saiun boys' dorm--as his wife. Kuriko Kazetsubaki, the star of our entry, is the daughter of a powerful and wealthy industry family and already right in its footsteps; she wants Kazuki's genes to make her family even more powerful, and doesn't give a toss about the lad himself...or does she? Well, one thing is positive: There's no mistaking that nice close-up bounce she contributes to the OP sequence, not to mention the show itself. Rin Kamashiro is a new transfer student who is ordered to marry Kazuki for the good of her family, is not happy about it and just wants to kill him with her ever-ready sword so she doesn't have to assume the, erm, duty--at first. Motoko Aoyama from Love Hina, please pick up your little sister. As you've probably gathered by now, there's no need to engage your brain much to watch this series. Approach with discretion--especially if you're getting jaded about anime.

Out of print (previously on ADV Films on bilingual DVD). The Thinpak collections have the on-disc extras stripped off.
ANN Encyclopedia Entry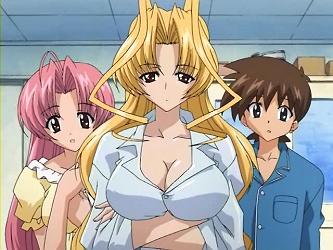 MASTER OF MOSQUITON '99
Wolf Lady/Okami-Sensei

For the television sequel to the OVAs, things changed. It is now set in modern times, hence the title. Inaho is the most popular student at a Catholic all-girls school (and still a massive pain in the butt) who, this time, is seeking O-parts for money. Mosquiton, still under her control, is now a history teacher at the school. And ever since he went on a desperate feeding frenzy at said school, all the girls love him, but he knows who wears the skirt. With his help, Inaho now travels time and dimensions in her search. It is during one of these trips that they meet up with a pneumatic lass who they call "Wolf Lady" because of her problem. Y'see, she's a lycanthrope who changes into a werewolf if a man touches her. And, given her looks, a lot of men do (especially since her appearance in the centerfold of a magazine for monsters), which makes for a very uncomfortable (and funny) life. She winds up joining with Inaho and the rest in the hopes that the O-parts will help halt her condition. Until that time, she is the phys.ed. teacher Okami-sensei ("Professor Wolf") at the school. The fanservice isn't as manic as in the OVAs, but the show's still pretty good (at least the first four eps are, anyway, which is all I've seen of it).

Not licensed.
ANN Encyclopedia Entry
Sarcasm-hime's (rather small) Master of Mosquiton Shrine is a good fan site, but you have to wonder: Do vampires actually believe in shrines?